Free shipping in 24 hours on orders over
€49,95
✕
electronic-stamps
Colop E-Mark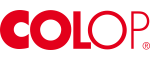 ---
Connect your e-mark via Wifi with your mobile device (smartphone, tablet, laptop) or via USB with your computer.
Create your own templates or use predefined templates.
You can generate date, time and numbering, QR codes and barcodes.
Multi-color prints.
The box includes: E-mark, ink cartridge, USB charging cable and manual.
A practical and highly original gift available for same day shipping.
---
359,95€ TAX inc.
In stock
The international stamp production company COLOP launches the first electronic marking device of its kind. The Colop e-mark allows you to create, change and transfer full color prints using an app and mark directly on various surfaces.
compact and mobile
Easy to use on the go without mains connection due to its built-in battery. The e-mark can be used wherever it is needed, be it in the office, in the garden or on your next business trip. It can be used as flexibly as your lifestyle requires.
Flexibility in the exchange of impressions
Compared to conventional stamps, you can easily and effortlessly change imprints with the free e-mark app.
Easy to create individual prints
Use your own images and texts to create impressions with the e-mark App. If you prefer, choose a print from a complete list of predefined templates for immediate marking.
Marking on different surfaces
Directly applicable on all absorbent flat surfaces and custom made label sheets that stick to almost all different materials.
multicolor prints
The multicolor cartridge allows printing of your logos, images and pre-defined templates in full color.